Tranoï prepares to open online communications platform for fashion professionals
The end of Tranoï's e-store a few months ago, after having just launched in October 2010, did not mean that the fashion trade show was going turn its back to the Web.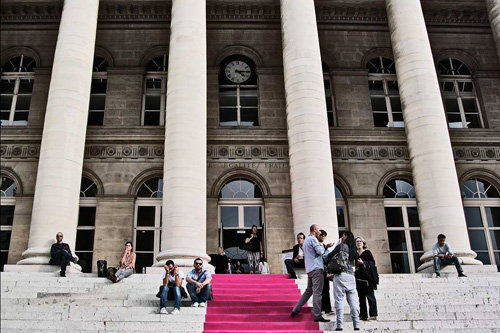 Outside the Paris bourse, where Tranoï hosts its trade show (Photo: Pixel Formula)
Tranoï is getting ready to make a come-back to the digital world via... tranoi.com. The new website will be split into two parts, one for the general public and the other for professionals. "Tranoi.com is going to offer brands a communication-mrketing tool, which may or may not be present at Tranoï", explains Michael Hadida, the trade show's organiser.
Designers' pages will include product descriptions, zoomed-in shots, a list of all their stores and e-stores, etc. He or she can also talk about their working methods and display the currently available collections to the public, as well as next season's collections which will be of interest to professionals (journalists and retailers included).
The cost to feauture on this online platform will come to 700 euros pers season for the brands. This is a way to keep Tranoï alive all year, even after the physical edition of the trade show has ended. The September launch is initially going to host around 40 brands.
Copyright © 2023 FashionNetwork.com All rights reserved.