Neiman Marcus chief says cannot survive on discounts
By Martinne Geller
NEW YORK (Reuters) - Upscale retailer Neiman Marcus Group Inc NMRCUS.UL is inviting some of its best and loyal customers to special trunk shows or meetings with designers in hopes they will buy new fashion items at full price.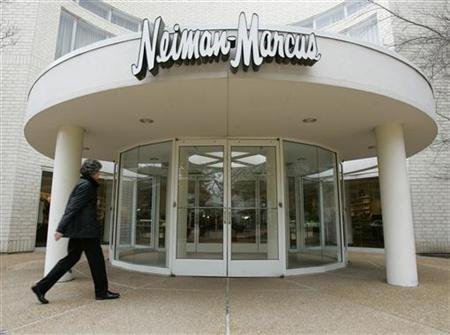 Engaging Neiman's core, wealthy customers are the retailer's "best chance of turning the tide" of deep discounts that is drowning company profits, Chief Executive Burt Tansky said on Wednesday.
"The challenge that we have is to get the customer back into the store to buy at full price, because none of us can continue to sell at promotional prices and deep discounts," Tansky told the National Retail Federation annual convention in New York.
"First of all, there's no advantage to it. Second of all it leads to hell ... and it's got to stop."
Luxury chains such as Neiman Marcus, Saks Inc (SKS.N) and Nordstrom Inc (JWN.N) were doing better than many retailers for much of last year, as their wealthier customers were less hurt by rising gasoline prices and mortgage payments.
But that changed after September, when a global markets crisis cut into the investment portfolios of the wealthiest consumers. Since then, high-end and low-end retailers alike have used heavy markdowns to attract shoppers.
On Tuesday, Neiman Marcus said it planned to cut 375 jobs and issue more debt to make interest payments on some existing notes.
"There will be changes in our organization. As you can imagine, necessity is requiring us to make some very, very hard decisions," Tansky said.
The company last week said sales at its Neiman Marcus and Bergdorf Goodman stores open at least a year sank more than 31 percent in December, during the industry's worst holiday shopping season in nearly four decades.
SPECIAL EVENTS
To counter such trends, privately-held Neiman Marcus is testing several marketing ideas, including bringing in groups of 20 to 30 shoppers for special events, Tansky said.
"We have a number of things going on and already we are starting to understand that our customer, the affluent customer, will come into the stores if we create the right environment," Tansky said. He noted that some clients said they felt uncomfortable "shopping ostentatiously."
Speaking on the same panel, Polo Ralph Lauren Corp's (RL.N) president and chief operating officer Roger Farah said Polo identified seven initiatives that it expects will advance the company and better position it for when the economy recovers.
The owner of the Polo, Chaps and Club Monaco brands is relying on its top 100 employees to work on specific teams designed to address these issues, which he declined to name.
Polo shares were down 2 percent at $40.20 on the New York Stock Exchange, while Nordstrom fell 8.2 percent at $12.03 and Saks shares slipped nearly 6 percent to $3.39.
(Reporting by Martinne Geller; Editing by Tim Dobbyn, Bernard Orr)
© Thomson Reuters 2023 All rights reserved.