Marks & Spencer: From self-harm to self-help
By Mark Potter and James Davey - Analysis
LONDON (Reuters) - Marks & Spencer (MKS.L) has shown it can sort out self-inflicted problems and come up with steps to mitigate the recession, but the jury remains out on whether more radical surgery is needed for a lasting recovery.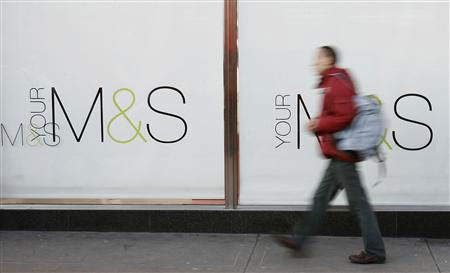 Photo : Andrew Winning
Some analysts believe nothing short of a drastic reshaping of the 125-year-old landmark British retailer will do, such as selling or closing down its underperforming Simply Food stores and opening a new chain focused on younger fashions in order to reverse its reliance on an aging customer base.
Others have even mooted a possible tie-up with supermarket group J Sainsbury (SBRY.L) or fashion chain Next (NXT.L).
Analysts, however, have sometimes overplayed the need for radical change at companies as a catalyst for a turnaround.
Wm Morrison Supermarkets (MRW.L) Chief Executive Marc Bolland proudly tells how he forged a recovery at the company by focusing on fresh foods in the teeth of analyst opinion he should rip out costly "Market Street" food counters, expand into non-food and move online.
Marks & Spencer (M&S), Britain's biggest clothing retailer, reported on Tuesday a 4.2 percent fall in sales at UK stores open at least a year for the 13 weeks to March 28. That was up from a 7.2 percent decline in the previous quarter and beat forecasts for a drop of 6.5 to 7.5 percent.
Executive Chairman Stuart Rose signaled the group did not need a root-and-branch overhaul and could build a recovery around its traditional themes of broad appeal and quality, even in an economic downturn.
"Maybe people will want to buy things that have a little bit more lasting quality," he said. "Maybe people will eat less, but better. Maybe people will not go down the route of disposable fashion in quite the same way."
FIXING THE PROBLEMS
M&S, which serves 21 million Britons a week from more than 600 stores, said it had started to put previous mistakes right and that, even though the consumer environment had not got any easier, it was hopeful of building on the improving trend.
In food, where M&S was slow to adapt its upmarket offering to the consumer downturn, the group has installed new management and had success with its "Dine In" promotions, which Rose dubbed "the most aped promotion of any promotion around."
It is also back innovating with the "Cook Asian 1234" range, and freshening up its offering with more than 250 new lines added in the last quarter.
In clothing, market share in childrenswear is at a seven-year high, as the group picks up business from the collapse of Woolworths and downsizing at Adams, while homewares are performing ahead of budget, which Rose attributed to a "trust factor" following the collapse of furniture groups such as MFI.
The new "Portfolio" womenswear range for older women is also selling well, and the group is making progress in reviving "Per Una," although Rose admitted that more needed to be done.
He also dismissed criticism M&S was losing younger shoppers.
"Over the last 12 weeks, we have had 200,000 women under 35 more than the same time last year," he said.
Analysts views on the company, however, are mixed.
BENEFIT OF THE DOUBT
"Far from benefiting from a 'flight to quality', we believe M&S is struggling to hold on to customers, which is a big concern for a mature retailer," said Investec's Katharine Wynne.
Credit Suisse's Tony Shiret argued in a recent research note M&S needed a new small-store concept to reconnect with younger shoppers, and also warned about a looming pension deficit.
Others fear for the longer-term prospects for M&S food.
"(M&S) Food is structurally challenged," said Panmure's Philip Dorgan. "It has lost its competitive edge, it is too small, its prices are too high, its supply chain is not reactive enough and its stores are in the wrong place."
For now, however, investors appear to be giving M&S the benefit of the doubt.
After plunging three-quarters in value from an April 2007 high of 759 pence to a September 2008 low of 191.90 pence, M&S shares have bounced back this year, adding another 12 percent to trade as high as 297.5 pence on Tuesday.
On a more positive note, Bernstein Research's Luca Solca said that, while much more needed to be done, M&S's latest update was encouraging.
He rates the stock "outperform" due to the self-help improvements available to the firm, which he says include cutting costs and sourcing clothes more efficiently.
Working hard to make its supply base more efficient will be crucial this year as the retailer seeks to mitigate the impact of sterling's depreciation against the dollar.
JP Morgan analysts were even more upbeat.
"We think M&S is likely to be the next large, liquid, asset backed, increasingly international retailer to be rerated," they wrote in a research note.
(Editing by Simon Jessop)
© Thomson Reuters 2023 All rights reserved.