Liz Claiborne slashes view for Q4, full year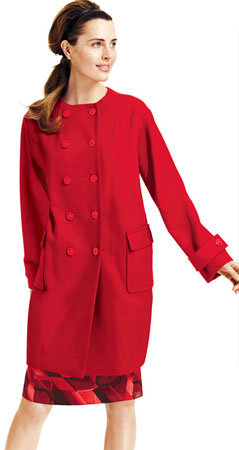 www.lizclaiborne.com
By Martinne Geller
NEW YORK (Reuters) - Liz Claiborne Inc slashed its outlook for the holiday shopping season as consumers cut spending sharply after a global financial crisis erupted in September, sending its shares down 2.9 percent.
The owner of the Juicy Couture, Lucky Brand and Kate Spade brands said on Friday that it expected third-quarter results would be in line with its forecasts, but cut its outlook for the fourth quarter and full year.
"We began to see real changes in spending patterns in our stores in September, and we saw our department store partners dramatically increase promotional activity at the same time," said Chief Executive William McComb.
"Traffic in malls and street locations is off in every region, including Europe."
The company expects to earn 19 cents to 24 cents per share in the fourth quarter, down from a prior forecast of 66 cents to 71 cents. The new forecast assumes an average companywide same-store sales decline in the low double-digits.
As a result, Moody's Investors Service put Liz Claiborne's debt ratings under review for possible downgrade to junk status on Friday.
Liz Claiborne "still has a large business that is traditional wholesale supply ... and when times were good it wasn't great either," said Moody's analyst Scott Tuhy, referring to how companies like Liz and Jones Apparel Group Inc have been losing sales for some time as department stores consolidate and dedicate more floor space to their own private label brands.
Liz Claiborne, whose department store brands include Liz Claiborne, Monet and Kensie, plans to cut capital spending.
It said 2008 capital expenditures should be $195 million, down from a prior forecast of $210 million, with the 2009 amount being about half that.
For 2008, Liz Claiborne said it expected to earn $1 to $1.10 per share, down from its previous estimate of $1.40 to $1.50. It also warned that if trends deteriorate further, it may be necessary to cut the outlook again.
Analysts on average were expecting earnings of 57 cents per share for the fourth quarter and $1.33 per share for the full year, according to Reuters Estimates.
Liz Claiborne also said it would not provide a 2009 forecast when it reports third-quarter earnings on November 11.
For the third quarter, which ended earlier this month, Liz said it expected to report a net loss per share of 8 cents to 14 cents. Excluding items, it plans to report profit of 37 cents to 42 cents, in line with its previous forecast.
Analysts were expecting 38 cents per share.
Net sales in the quarter fell 15.9 percent to $1.02 billion.
Same-store sales fell 13 percent at both Mexx, the company's largest chain, and Kate Spade, its smallest. Same-store sales rose 5 percent at Juicy.
Liz Claiborne shares were down 24 cents, or 2.8 percent, at $8.40 in afternoon trading on the New York Stock Exchange.
(Editing by Lisa Von Ahn, Phil Berlowitz)
© Thomson Reuters 2023 All rights reserved.