L'Oreal ditches double-digit EPS growth
PARIS, Feb 16 (Reuters) - French beauty products company L'Oreal (OREP.PA) has been enjoying renewed growth in the first few weeks of the year, particularly in luxury cosmetics, its chief executive said.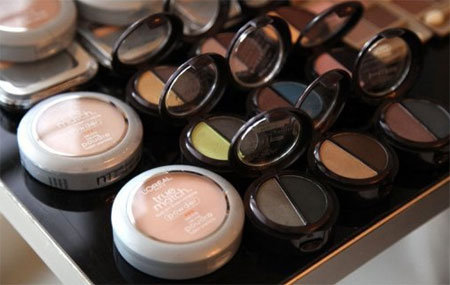 Cosmetics by L'Oréal
Jean-Paul Agon
said trading in January and February had been "good" overall and sales were recovering faster in Western Europe than in North America. "Early 2010, we have the feeling that this is the year we are exiting the crisis."
L'Oreal, which is behind Garnier shampoo, Yves Saint Laurent make up, Lancome creams and Kiehl's essential oils, celebrated its 100th anniversary last year and represents about 15 percent of the world cosmetics market.
Looking ahead, Agon said the group was entering a new era of development and had ditched its target of double-digit growth in earnings per share, which it had met for more than two decades until it started to get hit by the downturn in 2008.
"We do not want to continue to have to wear a yoke that forces us to make our results grow in double-digit terms every year," Jean-Paul Agon told Reuters in an interview.
"That kind of obligation can lead to strategic mistakes." Agon said L'Oreal wanted to be free to lower or hike its investments depending on its strategic needs.
This year, he said the company planned to keep investments in advertising and promotional activities at a "high level" and would increase spending on research and development at a faster pace than the company's sales growth.
L'Oreal, which usually tries to beat the market, saw its sales drop 1.1 percent in 2009 while global cosmetics market witnessed a 1 percent increase. [nLDE61E20C].
Agon forecast global cosmetics sales would rise 2-4 percent this year. He said markets had stabilised in Western Europe and were slightly positive at the end of 2009 and in early 2010.
But in North America, L'Oreal's second biggest market after Western Europe, the group had not yet seen signs of recovery.
"The luxury and hairdressers' markets have not picked up yet in the United States. In North America, we are seeing an improvement but it is still slightly negative," he said.
LUXURY REBOUND
Agon said the luxury division, whose products include Cacharel perfume and Biotherm cream, had returned to growth in January and February after suffering a year-on-year decline in the fourth quarter.
Analysts had expected L'Oreal's luxury sales to rise in the fourth quarter, by as much as 4 percent. Instead, sales fell 4.7 percent, after having slid 6 percent in the third quarter.
Agon said the luxury division had not performed as expected, adding: "Luxury will enjoy a nice rebound. I am very confident about the division for 2010 and for the first quarter."
Perfumes, which represent 45 percent of luxury sales, were hit hardest by the spending slump.
NO CONSUMER BEHAVIOUR CHANGE
Agon said the downturn had not changed consumer behaviour toward beauty products, as market research showed buyers had not traded down. "The real issue after the crisis is innovation at the right price," Agon said.
Last year, L'Oreal introduced entry-level products at many of its brands to woo consumers and encourage them to climb up the price ladder. "We have proof that this really does get us new consumers," Agon said.
He said the company's strategy was to offer innovative products at accessible prices which did not mean low-priced products but a price positioning that could attract the widest possible number of buyers.
One example of that strategy was Genifique "youth activating" serum which was one L'Oreal's best selling products in 2009 even though it costs 78 euros ($106).
Asked about expanding the group's portfolio of products via acquisitions, Agon said L'Oreal would have the firing power to finance them but declined to say if a deal was afoot.
Agon said the group planned to keep costs under control but no further restructuring was planned. Global staff numbers shrunk 5 percent in 2009 and is now just under 65,000.
Agon said the company had not decided yet whether it would buy back shares this year.
(Editing by Dan Lalor)
($1 = 0.7345 euro)
(([email protected];+331 4949 5440; Reuters Messaging : [email protected])) Keywords: LOREAL/
(C) Reuters 2010. All rights reserved. Republication or redistribution ofReuters content, including by caching, framing or similar means, is expresslyprohibited without the prior written consent of Reuters. Reuters and the Reuterssphere logo are registered trademarks and trademarks of the Reuters group ofcompanies around the world.nLDE61F07F
© Thomson Reuters 2023 All rights reserved.