Crocs sales down 44 pct, turns to loss in quarter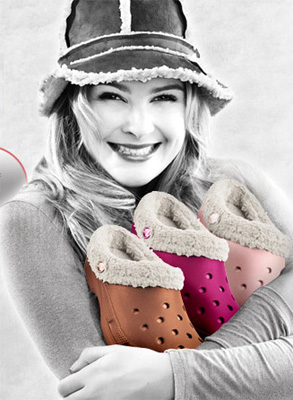 Crocs fall-winter 2008/2009
* Q4 adjusted loss per share 39 cents vs Street's 56 cents
* Q4 revenue down 44 percent
* Expects Q1 adjusted loss per share 32 cents to 17 cents
* Expects Q1 revenue of $110 mln-$135 mln
* Shares up 9 cents, or 7 percent, in extended trade (Adds estimates, background, expense detail, byline, shares)
By Alexandria Sage
SAN FRANCISCO, Feb 19 (Reuters) - Struggling shoe company Crocs Inc (CROX.O) reported a steep quarterly net loss, compared with a year-earlier profit, as sales fell sharply and the company was hit by adverse currency movements.
But results were better than Wall Street had expected, and above the company's own projections, and shares rose 7 percent in after-hours trade.
Crocs said it would not provide an annual forecast.
The company posted a fourth-quarter net loss of $33.2 million, or 40 cents per share, compared with a year-earlier net profit of $38.3 million, or 45 cents per share.
Excluding impairment and restructuring charges, Crocs posted a loss of 39 cents, above the loss of 56 cents expected by analysts, on average, according to Reuters Estimates.
Sales fell 44 percent to $126.1 million.
Crocs' brightly colored resin shoes propelled it into the limelight midway through the decade, but sales in the United States and globally have since fallen off due to their waning popularity and the recession.
The company has been trying to trim costs and write down inventory since its early explosive growth resulted in an infrastructure now out of whack with current sales.
Crocs has laid off workers, closed factories and consolidated distribution centers and warehouses, shuttered smaller business units and postponed apparel initiatives.
Excluding gains and losses from foreign currency exchange rates, spending on selling, general and administrative expenses fell 15 percent in the quarter.
Inventories fell 42 percent.
In November, Crocs shocked investors with a fourth-quarter outlook well below Wall Street's. The company had estimated a loss between 50 cents to 65 cents on revenue between $100 million to $120 million.
On Thursday, Crocs said it had extended the term of its bank credit facility through April 2 and was in discussions with other lenders for an asset-backed borrowing facility.
The company said its working capital had improved and it was confident in its ability to generate cash.
For the first quarter, Crocs said it expects a loss of 32 cents to 17 cents per share, including a loss of $10 million due to foreign currency exchange rates. Revenue are expected to range between $110 million and $135 million.
The company's shares rose in extended trade to $1.30 after closing 2.5 percent higher at $1.21 on Nasdaq. (Reporting by Alexandria Sage; Editing by Ted Kerr, Bernard Orr)
© Thomson Reuters 2023 All rights reserved.