Cashmere industry addressed at world trade fair
Cashmere is coveted for its unique qualities: its softness, durability, lightness and warmth make it a premium material desired by consumers worldwide. Cashmere World trade fair is poised to address issues of quality and sustainability on a global scale which threaten the long-term growth of the industry at its forthcoming event held 23 - 25 November 2010 in Beijing.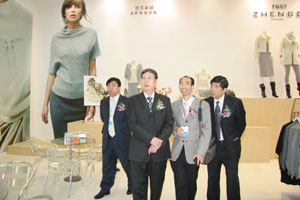 Cashmere World Fair
The organisers, UBM, and their government body partners CFNA* are offering attendees two significant fringe programmes -- Cashmere Quality Forum and Sustainability Conference - as part of their on-going initiative to protect the value of, and educate industry professionals and consumers on, the cashmere business.
It is under the mandate of CFNA to set the standards of the cashmere industry in China, the country which controls over 95% of the world's supply of pure cashmere and produces 75% of cashmere products in the world.
*China Chamber of Commerce of Import & Export of Foodstuffs, Native Products & Animal By-Products
By Rosie Hart
Copyright © 2023 FashionNetwork.com All rights reserved.