Bread & Butter readies to celebrate its 10th anniversary
This 5th of July will try to outdo the festivities of US Independence day, held the day before, whilst the leading international trade fair for urban and contemporary brands will host its explosive 10th anniversary edition with over 600 brands and tens of thousands of visitors from around the world. Festivities will be non-stop — 3 nights in a row — at the event's "Super Nights".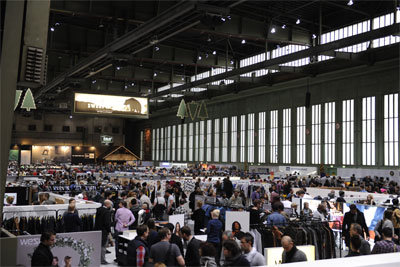 Panoramic view of B&B
Karl Heinz Müller's 14oz store for select urban brands later allowed him to discover that the brands he distributed did not quite find their own place in existing trade fairs 10 years ago. Baby
Bread & Butter
was born in Cologne in 2001 to provide those brands a fit platform. It later moved to Berlin, Barcelona and back to Berlin in 2009 to become today's rightly themed Bread & Butter "Supershow". The Berlin-Tempelhof airport will vibrate sounds from bands such as Airbourne from Australia and for the first time ever Berliners will be able to take part in the evening celebrations.
From July 6-8, over 600 exhibitors will be distributed as usual into their respective categories. In the centre of the Airport, brands such as
Diesel
,
G-Star
, Levi's,
Desigual
among many others make up the main valve of the trade fair's heart : Denim Base. On the left wing visitors will find select sport, urban and street brands. The right wing is composed of urban brands for men and women, and special zone known as "L.O.C.K" (Labels of Common Kin) at the very end. Specialty know-how brands such as
Barbour
,
Aigle
, Stetson and
Sorel
exhibit their collections in this location. First time exhibitors or brands who break at this upcoming edition a hiatus of absence include Denim&Supply from Polo
Ralph Lauren
, Civic Duty, On.Earz, Lindberg CPH Jeans, Angels Never Die, among others.
New features for this summer edition include an
al fresco
area for gastronomy so called Out.LOCK organised by the aforementioned L.O.C.K.. Also featuring for the first time is the boutique "Stores of Common Kin" (ST.O.C.K), where visitors can purchase historical collection pieces from these labels.
But that's not all, nor is it the least. The Bread & Butter community can take a break from business for leisure at the novel area so named The Sport & Street Desert Island. A space where performances will be staged along side with hippy inspired and trashy trailer parks. Ten special collaboration pieces by Sport & Street partners will be inside the 'S&S Survival Kits' to be provided for to visitors in order to survive the desert plots of land where rusty cars and cacti proliferate. The official launch for this event takes place on Wednesday, July 6, at 5 pm.
FashionMag.com wishes Bread & Butter a Happy 10th Anniversary!
FIND OUT WHO IS GOING TO THIS EDITION ON FASHIONMAG'S POLL ON FACEBOOK : CLICK HERE

(Translated and edited by Christian Layolle)
Copyright © 2023 FashionNetwork.com All rights reserved.