Bread & Butter has no plans to leave Berlin
Bread & Butter just started its 25th edition with a big celebration, and with every reason to do so as the fair is also celebrating its 10th anniversary. During the press conference held on Tuesday evening, founder Karl-Heinz Müller reflected on the highs and lows of the last ten years. He also took the opportunity to remind everyone of the show's independence. "Whenever we reach out for partners, it is often to strengthen our weaknesses. I prefer to rely on competent employees", he commented. "This is an independent corporation of which I am the only shareholder. No banks have their say on what I do".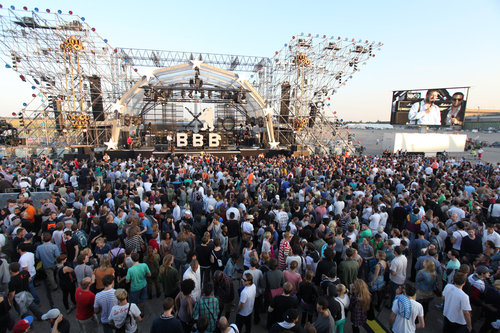 Bread & Butter's Super Night on July 6
As for the location of the event, it seems like Bread & Butter is definitely there to stay. The German capital is, after all, the ideal place for denim and streetwear fashion. "We recently signed a 10-year contract for the rental of the airport. There are thus still another 8 years left without counting the option to extend it for another ten. I much prefer to invite people to come to Berlin, rather than try to duplicate our concept in other parts of the world. I do not have any expansion plans either. The original place is Berlin", he concluded.
When a journalist mentioned the trade show's supposed revenue of 50 million euros that had appeared in the press, the founder joked about having prepared for the questions about figures with the number of lamps, trees, chocolates, employees, etc.
FASHIONMAG POLL:
• Which trade shows will you be attending this year? Click
here
to answer our Facebook poll and find out where other fashion professionals are going.
Copyright © 2023 FashionNetwork.com All rights reserved.