Watch orders at luxury fair fall, retailers wary
ZURICH, April 3 (Reuters) - Demand for timepieces fell 15 percent at this year's Baselworld watch and jewellery fair as the gloomy economic outlook made retailers take a cautious approach to stocking up on luxury accessories.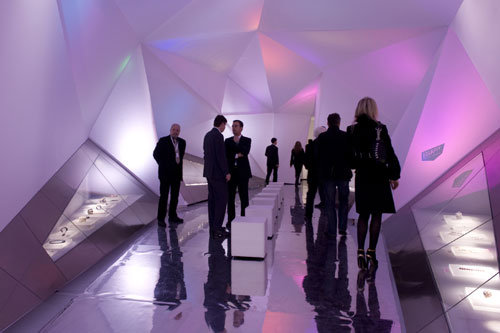 Baselworld 2009 - Photo courtesy of Baselworld
"Last year, many people were ordering to make sure they could get the merchandise and were ordering more than they needed," said President of the Swiss Exhibitors' Committee Francois Thiebaud.
"This year, retailers are more cautious because of liquidity issues and because they are ordering only what they feel they can sell," said Thiebaud, who is also the President of Swatch Group's (UHR.VX) Tissot brand.
Thiebaud said he estimated orders to be down around 15 percent compared to last year, while the number of visitors was down around 12 percent.
Fewer people came from the United States, Japan and Spain, but there were more visitors from China and India, said Sylvie Ritter, Baselworld show director.
Watchmakers are facing their toughest business conditions in over a decade as traditional customers such as bankers lose their bonuses and tens of thousands of jobs are axed in the financial sector as a result of the economic downturn.
The decline in orders at the fair was largely in line with expectations as well as with recent Swiss watch export data, analysts said.
Many dismissed hopes that the pace of decline in the industry could start to ease, as retailers face problems in securing credit to buy new stock and are still trying to lower inventory levels before placing new orders.
Swiss watch exports are likely to continue to decline by some 20 percent for the next six months, said Vontobel analyst Rene Weber, with only March data looking slightly more healthy due to a low comparative base.
Overall, Thiebaud expects Swiss watch exports to be down between 10 and 15 percent in 2009. March trade data is due on April 23.
"Watchmakers are still facing a tough environment and I don't see why the luxury consumer environment should improve in the short term," said ZKB analyst Patrik Schwendimann.
"In fact, conditions in the Middle East and China worsened at the end of 2008 and it does not make sense that they would start to improve now," he said, adding that the outlook for Europe and the emerging markets was rather lacklustre.
JEWELLERS LOSE THEIR SPARKLE
Jewellers and watchmakers at the fair, which ran from March 26 until April 2, said they thought it looked empty compared to 2008, which many described as a bumper year.
"From talking to people, I know that sales have been slow this year," said Ronny Totah of Horovitz & Totah, a jeweller and gem trader. "The other day, one jeweller came round, trumpeting that he had done a great sale and I asked him to whom? It was to his brother!"
Many jewellers said British buyers stayed away this year, partly due to the weakness of the British pound, while Japanese buyers also proved a rarity.
Rima Farah of Swissdiam, a Geneva-based coloured diamond specialist, said diamond prices in general had fallen in recent months though the price of coloured diamonds, especially rare blue ones, had proved much more resilient.
Research houses said that some retailers were even negotiating the possibility of returning old inventory in exchange for new orders.
(editing by John Stonestreet)
© Thomson Reuters 2023 All rights reserved.