Ulta announces positive Q3, up by 19.4%
Ulta Salon, Cosmetics & Fragrance Inc. announced financial results for the third quarter and for the first nine months ended October 30, 2010, which compare to the same periods ended October 31, 2009.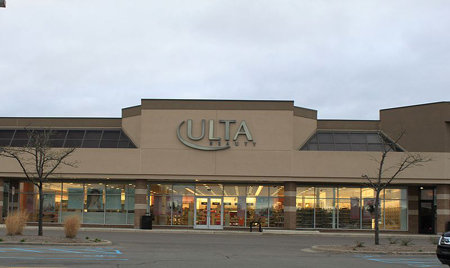 Ulta Beauty in Michigan (photo by Dwight Burdette)
For the third quarter, net sales increased 19.4% to $339.2 million from $284.0 million. Comparable store sales increased 12.2% compared to last year's increase of 1.5%. Gross profit increased 35.1% from 32.3%. Net income increased 67.9% to $14.2 million compared to $8.5 million in the third quarter of fiscal 2009.
Chuck Rubin, President and Chief Executive Officer of Ulta stated: "Our outstanding third quarter performance reflects the ongoing success of our key initiatives to increase newness across brands and categories, drive traffic with impactful marketing and in store events, grow our store base and leverage our ecommerce and store channels."
For the first nine months, net sales increased 18.7% to $981.2 million from $826.4. Comparable store sales increased 11.3% and gross profit also went up to 33.4%, from 30.2% last year. Net income increased to $40.9 million compared to $19.1 million in the first nine months of fiscal 2009.
The company ended the third quarter with 384 stores, of which 39 were opened since October 31, 2009, and square footage of 4,039,330, which represents a 12% increase compared to last year's third quarter.
Ulta is the largest beauty retailer that provides prestige, mass and salon products and services in the United States. The company offers over 21,000 prestige and mass beauty products across the categories of cosmetics, fragrance, haircare, skincare, etc.
Copyright © 2018 FashionNetwork.com All rights reserved.