UK retail sales rise in January
Feb 8 - Retail sales bounced back in January after a snow-hit December and house prices fell at a slower pace, surveys showed on Tuesday, suggesting the economy may have gathered some momentum following a shock contraction late last year.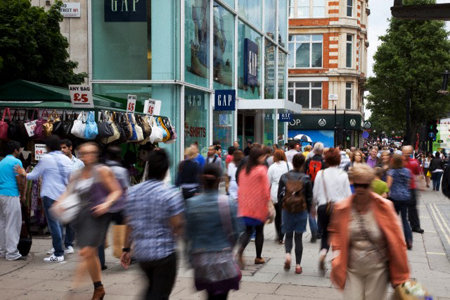 Shoppers on Oxford Street
The British Retail Consortium said like-for-like retail sales rose by 2.3 percent in January, compared to a year before, the strongest growth since March. Total sales rose by 4.2 percent, compared to 1.5 percent in December.
However, the trade body said growth at the start of this year was largely driven by big discounts and a rush to beat a rise in the VAT sales tax. It also compared to a weak reading in January 2010 when snow and ice badly disrupted trading.
"Comparisons are with a feeble, snow-hit performance a year ago," said Stephen Robertson, BRC director general. "Growth this January was driven by a relatively short but strong burst of non-food buying early in the month."
Another bout of bad weather in December contributed to a 0.3 percent fall in retail sales compared to a year earlier and was blamed by the government for part of the GDP contraction.
A separate survey showed house prices in England and Wales fell in January, although the pace of decline eased for a third consecutive month.
The Royal Institution of Chartered Surveyors' seasonally adjusted house price index rose to -31 from -39 in December, its highest level since July and better than the forecast of -38.
The two surveys underline the tricky balancing act facing the Bank of England as it tries to cut high inflation without damaging the fragile economic recovery.
Economists expect the bank to leave interest rates at their record low of 0.5 percent on Thursday and postpone any rises until later this year to give the recovery time to strengthen.
Prime Minister
David Cameron
said the government will not water down its deficit reduction plan, despite pressures on household budgets. In an interview with the Sunday Telegraph, he ruled out tax cuts at next month's budget.
The government says it must cut the deficit to maintain the confidence of the markets and keep borrowing costs down. Demand for government debt will be tested at an auction of 1 billion pounds of 2022 index-linked gilts later on Tuesday.
By Peter Griffiths

© Thomson Reuters 2023 All rights reserved.