UK: Plan to cover up recession eyesores
LONDON (Reuters) - The government unveiled a plan on Tuesday 14 April to help recession-hit towns find creative uses for their empty shops and protect high streets from crime and economic rot.
The plan, which includes three million pounds of aid, will free up planning rules so that councils can rent out boarded-up shops temporarily and bring farmers markets into town centres, among other measures.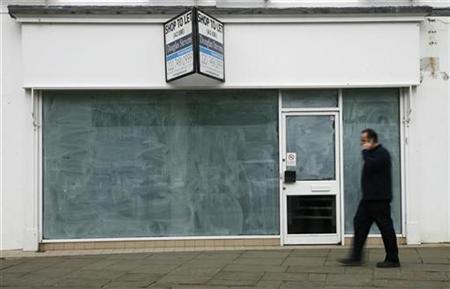 "Empty shops can be eyesores or crime magnets," said Communities Secretary Hazel Blears.
"Our ideas for reviving town centres will give communities the know-how to temporarily transform vacant premises into something innovative for the community ... and stop the high street being boarded up."
In the past, British towns have turned derelict shops into exhibition spaces for local artists, community centres, and even new businesses in the case of Neal's Yard Remedies, a cosmetics company founded in a disused warehouse in London's Covent Garden in 1981.
The revitalisation scheme comes after data in February showed that more than 4,600 companies went bust in England and Wales in the last three months of 2008, with the highly visible retail and real estate sectors especially hard hit.
More pain awaits Britain's retailers in the second quarter of 2009, according to insolvency experts Begbies Traynor, as the recession and ongoing credit crunch force more firms to close.
The economy shrank at its fastest pace since 1980 in the three months to December and is expected to contract for some time to come.
British retailers rejected the plan as a cosmetic solution, saying it did not address the causes of business failure.
"Clearly there's a need for information centres and play groups but local economies need shops to be filled with thriving retailers supporting real jobs," said British Retail Consortium director general Stephen Robinson.
The group pressed for a reduction of property costs, which it said were the greatest burden on struggling retailers.
(Reporting by Nick Vinocur, editing by Paul Casciato)
© Thomson Reuters 2023 All rights reserved.