Swiss watch makers hit by weak export data
ZURICH, Nov 20 (Reuters) - Shares in Swiss watchmakers Swatch Group and Richemont fell on Thursday after trade data showed demand for Swiss timepieces had slowed sharply in October.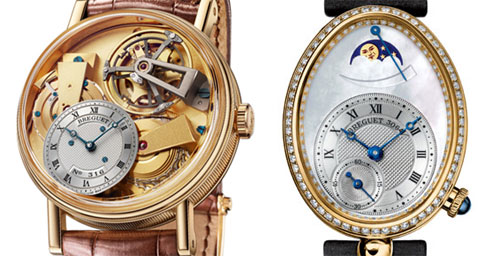 Swatch Group - Montres Breguet
Swiss watch exports rose 0.1 percent in October after a 15.5 percent rise in the previous month as customers reined in spending, scared by signs the financial crisis is spilling over to the wider economy.
The Federation of the Swiss Watch Industry (FHS) said 2008 was still likely to be a good year, but cautioned "growth is clearly at a low ebb and will accentuate its decline at the start of 2009, or even later this year".
Analysts have predicted Swiss watchmakers would suffer their first significant slowdown in five years in 2008 and that 2009 would be even worse.
By 0942 GMT, shares in Swatch Group had fallen 4 percent to 118.60 Swiss francs, while Richemont stock was trading 3 percent lower at 17.09 francs, in line with a 3 percent drop in the DJ personal and household goods index .SXQP.
"A sharp deceleration and we expect the figures to get progressively worse over the next 12 months," said Kepler Capital Markets analyst Jon Cox, who expects a 10 percent drop in Swiss watch exports in 2009 led by the $1,000-$5,000 retail category.
Exports to the United States fell 12 percent and there was a drop of 13 percent in exports to Singapore. But demand was buoyant in Hong Kong, China, South Korea and Saudi Arabia. Demand in Europe was mixed, the FHS said.
"Only the segment of wristwatches costing more than 3,000 francs registered growth in October, the FHS said.
"Below 3,000 francs, the downturn was more generalised, accentuated by timepieces costing between 500 and 3,000 francs which registered rates of decline in excess of 20 percent," it said.
Last week, Richemont, which owns high-end brands such as Vacheron Constantin, Lange & Soehne and Jaeger-LeCoultre, said consumers had held back on luxury buys in October as the financial crisis started to bite.
And Swiss watchmaker Hublot, part of luxury group LVMH , is bracing itself for a tougher 2009. (Reporting by Katie Reid; Editing by Victoria Bryan)
© Thomson Reuters 2023 All rights reserved.