Swiss knife-maker Victorinox cuts into perfume
SCHWYZ, Switzerland - The 125-year-old maker of the Swiss Army knife is branching out into cutlery, watches shirts and perfume.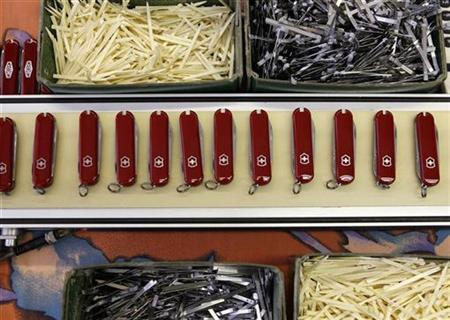 Swiss army pocket knives lie on an assembly-line at the production facility of Swiss knife manufacturer Victorinox in the village of Ibach near Schwyz - Photo: REUTERS/Arnd Wiegmann
Victorinox
Chief Executive Carl Elsener, a self-confessed perfectionist, said the range of newer products emblazoned with the firm's distinctive white cross within a red crest logo -- are breathing new life into the brand.
"Although we were initially unsure about launching a scent, we have had a lot of positive feedback," Elsener told Reuters, adding that 300 staff were now producing watches, while 900 work in the headquarters in Ibach making knives.
He said strong ethics and Christian values had also helped the group keep its head above water through the crisis.
"Of course we felt the credit crunch, people became uncertain and reluctant to buy, but since April we have been seeing real recovery," he said.
Founded in 1884, Victorinox has been issuing the Swiss military with its do-it-all knives since 1897.
Sales waned by about a third in the wake of the September 11, 2001 attacks, when airlines banned knives -- often purchased at airport stores -- on board, but has since recovered to post a 2008 net profit of 485 million Swiss francs ($436.9 million),
"This was undoubtedly the hardest year in the history of Victorinox," Elsener, the fourth generation of his family running the firm who also has 11 relatives working in the factory, told Reuters.
"But through mutual trust, cooperation and product diversification we managed to revive the business," he added.
In 2008, the Swiss government called for the first update to the design of the standard-issue tool in 47 years.
The new model marks only the fourth evolution in the history of the Swiss Knife and features an ergonomic handle, a serrated locking blade, screwdriver, can-opener, wire-stripper, reamer, key ring and wood saw.
According to Victorinox, 75,000 units have been ordered by the Swiss army and will be issued to troops in the course of 2009. More than a dozen armies globally, including Germany, Malaysia, Nigeria, as well as the NASA space agency have supply contracts with Victorinox.
The brand name is made up of the words "inox," meaning stainless steel, and "Victoria," the name of the founder's mother, coincidentally implying victory.
The highly valued "Swiss Made" label has also helped lift sales in the face of cheaper competition and imitation products.
"Of course we there are fakes and imitations available, but our unparalleled team-spirit and attention to detail, quality and Swissness makes us unbeatable in the industry," Elsener said.
© Thomson Reuters 2023 All rights reserved.