Suspending bed and sleek sofas at Milan design fair
By Marie-Louise Gumuchian
MILAN (Reuters Life!) - A clock made out of a pan, a bed that suspends from the air and sleek sofas -- Milan's furniture fair has something for everyone wanting to add a creative streak in their home.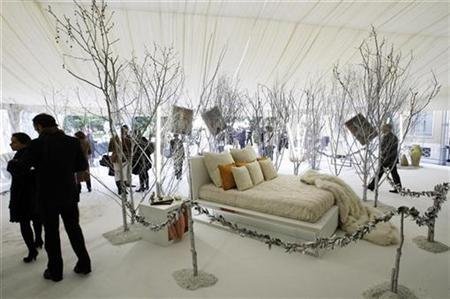 From the green-themed to the glitzy, established brands and students trying to make a name for themselves from around the world showcased their home lines at this year's display, some letting their imagination run wild.
Among the student designers, creative duo 1+1 Studio raised their suspended bed up to the ceiling to create space for a living room, while another designer made a seat out of straws.
Fethi Atakol displayed his collection created from old unwanted objects such as stools made out of tyres, a clock made out of a pan and a candle holder made out of a hay fork.
"It is about giving the object potential," Atakol said. "The design is delicate so that you can see what there was before."
Another designer showed how her "Environmental Bling Chair", with changeable pillows, could be switched into a stool.
Among the established brands, sleek glossy tables, majestic chandeliers and stylish beds and sofas attracted viewers at the fair, which ended this week.
Plastic chair maker Kartell showcased the "Mr Impossible" chair by French designer Philippe Starck. The chair has a curved, shell-like colored seat with transparent plastic legs, making it to look like it is suspended from the air.
At the Futura stand, a sofa could be pulled apart from the centre to be turned into two separate chairs, and then beds.
Despite a tough economic scenario with consumers rattled by a credit crisis and falling financial markets, there was no whiff of pessimism at the Milan fair. Some 348,000 people eyed the collections in a exhibition centre of the outskirts of the northern Italian city, according to organizer Cosmit.
"This year went very well," Cosmit Chief Executive Manlio Armellini said. "I saw a certain enthusiasm." However he added that a weak U.S. dollar was weighing on manufacturers.
Last year, the Italian furniture sector saw turnover rise 4.5 percent to nearly 40 billion euros ($63.36 billion). Armellini said 2008 had seen a good start, with an increase in exports.
At an event for upmarket Italian sofa maker Poltrona Frau at the start of the fair, industrialist Luca Cordero di Montezemolo said the sector was not hit by the financial crisis.
"The industry is growing, in market terms ... geographical expansion and in terms of product offers," he said.
Claudio Luti, president of Kartell, was also optimistic.
"We are expecting another good year," he said.
Collections were not just limited to the exhibition centre, with fashion houses putting up their own displays.
At Giorgio Armani, beds, tables and sofas stood in settings reminiscent of 1930s movie sets, while Versace rolled out luxurious home items in rooms named after world cities.
Dolce & Gabbana showcased a lamp collection by Ferrucio Laviani for Kartell, while Moschino displayed the half of a sofa, table, chair and lamp, with the other half reflected in a mirror.
(Editing by Paul Casciato)
© Thomson Reuters 2023 All rights reserved.