Sentencing set for September in Galliano racism trial
Fashion designer John Galliano will learn 11 weeks from today the outcome of his day-long trial on charges of hurling racist and anti-Semitic remarks at patrons in a hip Paris bar.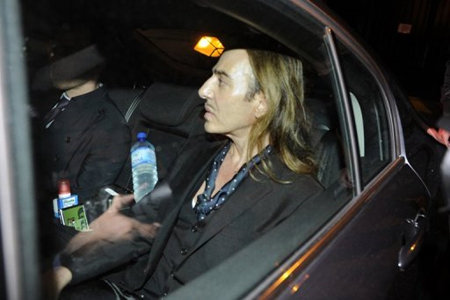 POLL: Do you think Galliano deserves a second chance? Click here to answer our poll on Facebook.
After seven hours of hearings -- at which the 50-year-old couturier blamed his career-wrecking conduct on a crippling addiction to drugs and alcohol -- a criminal court in the French capital set September 8 for sentencing.
Speaking publicly for the first time since the furore broke in February, Galliano said he had no recollection of the incidents that cost him his highly coveted job as creative director at the Christian
Dior
fashion house.
"They are not views that I hold or believe in," he said after the court viewed an amateur video in which he declared a love for Hitler to shocked patrons at La Perle in the Le Marais, the old Jewish quarter of Paris.
"In the video, I see someone who needs help, who is very vulnerable. It is a shell of John Galliano, pushed to the edge," said the Gibraltar-born and London-bred designer who repeatedly denied he was anti-Semitic or racist.
He told the court he suffered from a triple addiction to alcohol, valium and sleeping pills, and that he checked into rehab in Arizona and Switzerland after his downfall at Dior. Today, he added, "I am in day care".
Widely regarded as one of the finest fashion designers of his generation, Galliano faces a maximum penalty of six months in jail and a fine of 22,500 euros ($32,000) if convicted of making anti-Semitic insults.
Prosecutor Anne de Fontette asked the court Wednesday to fine Galliano no less than 10,000 euros, but made no mention of prison time, at the conclusion of a long day in a hot, stuffy, wood-panelled criminal court chamber.
"I apologise very much," said Galliano in a soft voice when asked by presiding judge Anne-Marie Sauteraud if he wanted to apologise to his reputed victims. "I apologise for the sadness this whole affair has caused."
"I embrace every people, every race, creed, religion, sexuality," he said, adding that he celebrated diversity through his couture.
Galliano said that he himself had experienced bigotry first hand after he moved to south London in the 1960s with his family at the age of six, enduring bullying at "a typical English school" because of his homosexuality.
He said he began abusing drugs and alcohol in 2007 following the death of Steven Robinson, his closest friend and right-hand man at both Dior and his own John Galliano label.
"After every creative high, I would crash, and alcohol helped me escape," he said, adding later: "I'm much better now."
Dressed soberly in a black jacket, matching loose silk trousers, but without his signature hat, Galliano was accompanied by his lawyer Aurelien Hamelle and a burly, bald-headed bodyguard who sat two rows behind him.
An interpreter whispered into his left ear as Sauteraud, with a docket 20 centimetres (eight inches) high at her side, read from a document that quoted Galliano as using such phrases as "fucking ugly Jewish bitch".
Asked by the prosecutor if she was sure Galliano had used the word "Jewish", his alleged target, museum curator Geraldine
Bloch
, replied confidently: "Yes, several times... it was one of the most recurrent words."
She said Galliano had begun by mocking her "cheap boots", moved on to insult her figure and finally called her "a dirty Jewish bitch".
Her companion that evening, receptionist Philippe Virgitti, testified that Galliano made several obscene Jewish references, and that he had also called him a "fucking Asian bastard" as well.
But Marion Bully, 30, an English teacher within earshot of the altercation, said that while she heard Galliano insult Bloch, at no time did she hear Jewish references.
A second witness, a 24-year-old German fashion student, said she too was at the bar on February 24 and confirmed an altercation, but added: "I did not hear any anti-Semitic things."
Another woman, Fathia Oumeddour, later came forward to say she was the victim of a similar assault in October 2010. Her complaint was integrated into Wednesday's proceedings.
The video was taken on a third occasion, apparently at La Perle. Galliano -- seen in the clip wearing a winter cap -- said he had no recollection of the incident, but added that he believed it may have taken place in December 2010.
Bloch is seeking a symbolic one euro in damages, although her lawyer Yves Beddock told the court that Galliano had already been punished in a way: "The sentence has already been handed down -- by Dior."
In the days after the February 24 incident, Galliano lodged a counter-suit against Bloch and Virgitti, alleging defamation.
by Robert MacPherson
Copyright © 2023 AFP. All rights reserved. All information displayed in this section (dispatches, photographs, logos) are protected by intellectual property rights owned by Agence France-Presse. As a consequence you may not copy, reproduce, modify, transmit, publish, display or in any way commercially exploit any of the contents of this section without the prior written consent of Agence France-Presses.