Pop-up shopping centre Boxpark opens in London
Oakley, Etnies, Gola, Puma, New Era, DC Shoes , Smiley, Dockers, Levi's, Fifty Five DSL, Calvin Klein and Nike, amongst others, have decided to take part in the launch of the world's first-ever pop-up shopping centre. Smaller brands such as Farah Vintage, which now has its first retail store in the UK, can also be found in the mix.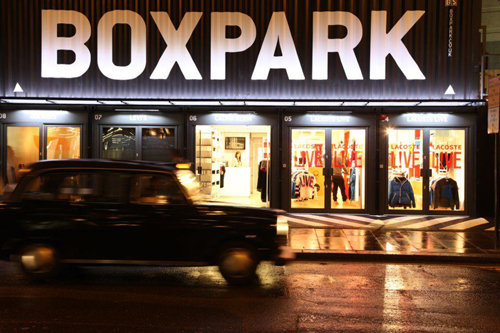 Boxpark in Shoreditch
Based on a 4.7 hectare site in the East London district of Shoreditch, Boxpark was created by Roger Wade, the founder of Boxfresh who now works in his own brand consultancy company. The two-story shopping concept, developed by real estate groups
Hammerson
and Ballymore, is particularly attractive to brands as it is located fairly near the Olympic Stadium where the Olympic games will be held next summer.
At a time when the cost of hiring space in the capital is sky-high, Boxpark, which has been built from shipping containers, is even more appealing to retailers as it is able to offer cheaper and short-term rent. The sixty containers of 12 X 2.3 metres, which have been adapted in order to look like boutiques from the inside, can be easily adjustable and moved around. Besides retail outlets, the site also contains art galleries, cafes and showrooms.
According to the British press, more Boxparks could be "popping-up" across the UK, with possible locations in London, Birmingham and Manchester. As for the rest of Europe, the shopping concept could also be arriving in Amsterdam by the end of next year. Boxpark has already signed an agreement with Corio for exploring the expansion of its pop-up shopping concept in Europe.
Copyright © 2023 FashionNetwork.com All rights reserved.