Polo profit tops view, tempers sales outlook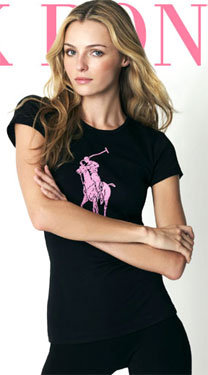 Polo Ralph Lauren "Pink Pony"
* Q2 adjusted EPS of $1.62 tops Wall St view of $1.24
* Affirms '09 profit view of $4.00 to $4.10
* Tempers '09 sales forecast to low single-digit growth
* Sees weaker sales trends for rest of fiscal 2009
* Shares up 2.2 percent
(Recasts with analysts' estimates, share move, COO comments)
By Martinne Geller
NEW YORK (Reuters) - Fashion company Polo Ralph Lauren Corp posted a profit that beat Wall Street forecasts on higher sales and stronger margins, but tempered its revenue view as consumers spend less.
Over the last year, Polo's high-end customers have been more resilient to the pain of soaring gas and food prices and a U.S. housing meltdown.
But after the global financial crisis exploded in September, discounting intensified across the retail sector and sales trends for Polo -- which owns Polo, Chaps and Club Monaco -- changed dramatically.
There is "considerable volatility, with customers in all channels of distribution pulling back in their spending," said Chief Operating Officer Roger Farah.
The company tempered its fiscal 2009 sales forecast, saying sales at retail stores open at least a year should trend negatively for the rest of the year, which ends in March.
For the second quarter, which ended on Sept. 27, Polo's net income rose to $161.0 million, or $1.58 per share, from $115.3 million, or $1.09 per share, a year ago.
Excluding impairment charges, Polo earned $1.62 per share, topping analysts' average estimate of $1.24, according to Reuters Estimates.
Net revenue rose 10 percent to $1.43 billion, the company said, citing shipments of new products, higher retail sales worldwide and increased wholesale revenue in Europe.
Sales at its retail stores open at least a year, or same-store-sales, rose 5.1 percent, as a 3.7 percent decline at Club Monaco was offset by increases of 0.3 percent at Ralph Lauren stores and 8.2 percent at factory outlet stores.
Polo affirmed its earnings outlook for fiscal 2009, saying it still expects to earn $4.00 to $4.10 per share.
But it now expects a low single-digit increase in 2009 revenue, instead of a low-to-mid single digit increase as earlier expected.
Polo shares were up $1.13, or 2.2 percent, at $50.64 on the New York Stock Exchange.
(Editing by Dave Zimmerman)
© Thomson Reuters 2023 All rights reserved.