London jewel design flair adapts to surging gold
Jun 10 - London's most talented artist-jewelers showed off state-of-the-art designs using innovative materials and the latest technologies this week as they adapted to soaring and volatile gold prices.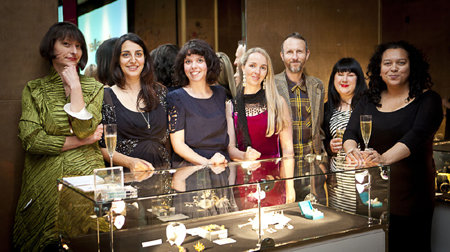 London Jewellery Week (6-12 June 2011) Launch Party
As London Jewelry Week kicked off on Monday, emerging brand PureJewels revealed platinum couture pieces by rising stars such as Anthony Roussel, who used a ground-breaking combination of wood with platinum and diamonds.
Many of Britain's jewelry design stars packed into a glitzy champagne reception at the Mayfair Hotel, including Sarah Ho, Katie Rowland, Rachel Galley, and Jessica de Lotz.
At a catwalk event at the Royal Exchange, David Marshall showed off his new "Beach Rocks" collection -- bold and daring pieces, featuring large stones in bright summer colors.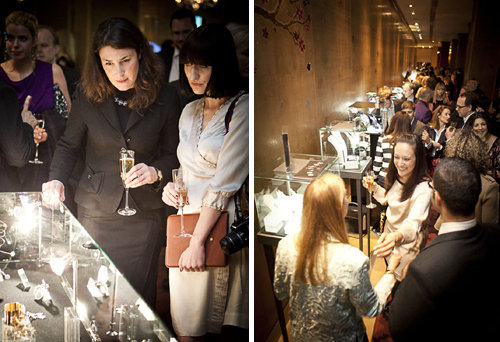 London Jewellery Week (6-12 June 2011) Launch Party
Designer-jewelers spoke of their concerns over surging gold prices, now trading at near record highs, and said they increasingly used silver, gold plate and 9-carat gold rather than 18-carat to keep prices affordable to mainstream shoppers.
CELEBRITY POWER
Old Etonian designer Alexander Davis and TV star, model and entrepreneur Amber Atherton staged a high society launch for their Monsoon Palace collection, inspired by the architecture and jungles of the East, featuring silver and gold plate.
Paparazzi cameras zoomed in on actresses Mischa Barton and Margo Stilley who joined the crush at entertainment spot Sketch.
At an event organised by retailer Charles Fish in the Canary Wharf financial district of London, designer Alexis Dove told Reuters, "There is a shift to gold plate and 9-carat gold in many new designs to keep prices accessible to people."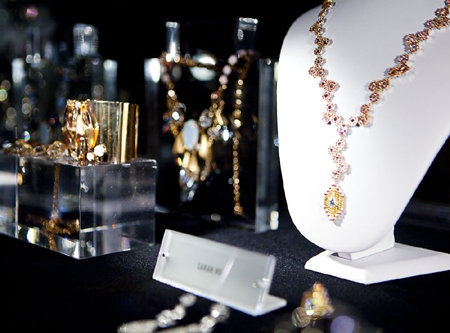 London Jewellery Week (6-12 June 2011) Launch Party
More than 120 jewelers and designer-makers -- well above last year's number -- showed off their latest work at Treasure, an event staged in a huge historic house in central London.
Treasure hosted a Goldsmiths' Company Pavilion for the first time, featuring new technologies such as laser welded platinum jewels by Tom Rucker, and a zipped chain by Jesper Velling.
Other standouts included architecture-inspired pieces by Daphne Krinos, and nature-themed jewels with eye-catching opals by Ornella Iannuzzi, inspired by a field trip to Ethiopia. Later on Friday, Fairtrade Foundation planned a VIP reception to celebrate the recent launch of Fairtrade Gold, which aims to drag miners out of poverty.
On Saturday, at the Hatton Garden Festival in the diamond jewelry quarter of east London, craftsmen will demonstrate diamond jewelry manufacturing techniques to the public.
In the chic Burlington Arcade in central London, jewelers invited the public to bring in jewels for free valuations.
Solitaire Gemmological Laboratories, a gem-testing lab, invited retailers, manufacturers and the public to bring studded diamond jewelry to its stand to be certified for free.
(Reporting by David Brough; editing by Paul Casciato)
© Thomson Reuters 2023 All rights reserved.