Jessica Biel: a new ambassador for Revlon
Revlon, which according to Jessica Biel "embodies today's modern woman", has returned the compliment and chosen her as their latest ambassador. Halle Berry, Jessica Alba, Jennifer Connelly, Elle MacPherson, Beau Garrett and now Jessica Biel, Revlon certainly likes to surround itself with celebrities to promote its beauty products. The young woman, rated as "an accomplished actress" by Alan T. Ennis, new CEO of Revlon, will therefore join the circle of models of the cosmetics brand which they represent the world over.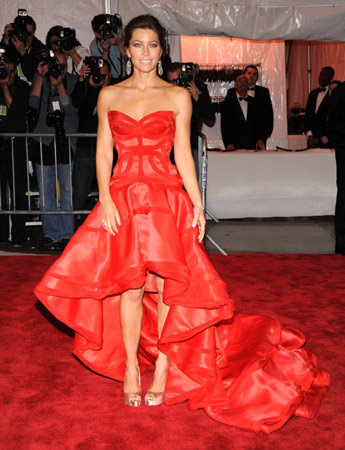 Jessica Biel
Alan T. Ennis further stated that "her modern and youthful spirit play to the essence of the brand". Jessica Biel, who made her first steps in the world of showbiz in 1996 as the eldest sister in the Camden family on the television series "7th Heaven", will therefore discover "the Revlon family", as Alan dubbed the business, and should perfectly stick to the company's driving values.
Moreover, the partnership has begun in the most auspicious of circumstances as, on the 2nd of May, Jessica Biel participated in the EIF Revlon Run Walk in New York, a charity event which will be followed by other philanthropic actions that the new face of Revlon should also contribute to. A fact which has not left the American actress indifferent, especially as the business has put more than $65 million into medical research and the women's health protect, notably donating to help fight breast cancer.
By Jonathan Fulwell (Source: Emilie Kremer)
Copyright © 2023 FashionNetwork.com All rights reserved.