Japan's top model "Ebi-chan" eyes global catwalk
By Alastair Himmer
TOKYO (Reuters Life!) - Top Japanese model Yuri Ebihara has made her mark in Asia but now she wants to take her place on the global catwalk alongside the world's supermodels.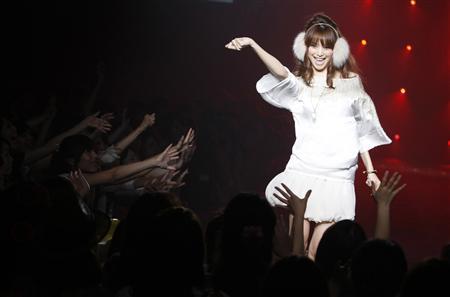 The 29-year-old has decided she is too sexy for Japan and wants to share the red carpet with the international jet set in Paris, New York and Milan.
"I've done Japan," Ebihara told Reuters in an interview, immediately gasping and covering her face in embarrassment. "I just mean I want to work with the top people in the world."
Ebihara, popularly known in Japan as "Ebi-chan" ('baby shrimp'), reigns supreme as her country's hottest magazine and TV model, with her enormous selling power in Japan and Asia used on everything from cosmetics to fast food chains.
"Until now it was fine being in the 'pretty-cutesy' brigade and being a hit. I've experienced that whole boom," she said before a fashion show in Tokyo.
"Now I want to break out and try the biggest challenge out there. It's a world I haven't dipped my toe into yet so I would like to see where it takes me ... I'm 30 this year so maybe it's time to go international."
In Japan Ebihara has become a powerful brand. When McDonalds used her fluttering eyelashes to promote its 'ebi-burger' in 2005, a staggering 10 million of the shrimp meals were sold within a four-week period.
"When we were shooting those commercials I was allowed to spit the burgers out if I ate too many," she laughed. "I've eaten fast food since I was a kid though and still do sometimes."
The 168-centimetre (5ft 6in) tall Ebihara said she would not feel intimidated being dwarfed by the leggy sirens who pose in the pages of Vogue and Cosmopolitan.
"I wouldn't want to be too tall. I'm alright as I am -- Kate Moss is small too. I like her and Gisele (Bundchen)," said the Japanese superstar whose twin sister chose not to pursue a career in modeling.
Metronomically punctual and not known for throwing hissy fits, Ebihara insisted she had the 'minerals' to stamp her mark among the fashionistas of Paris and New York.
"International models have very strong personalities. They may wonder what someone as 'ordinary' as me is doing there," said Ebihara, wearing a colorful lace dress and black heels.
"There's room for normal. I'd stand up to them. I would love the opportunity. The style of walking is different but all I need is a catwalk and I'll be totally able to do my thing."
The squeaky-clean Ebihara, who broke hearts recently following rumors she was marrying her rapper boyfriend Ilmari from the Japanese band Rip Slyme, says she has yet to throw a mobile phone in anger.
Informed that tabloid scandal sometimes comes with the territory of being a supermodel, she wrinkled her nose and joked: "Have I done anything scandalous? Maybe ..."
(Editing by Belinda Goldsmith)
© Thomson Reuters 2022 All rights reserved.