Japan's "Bond girl" beauty queens pack a mean punch
For those who dismiss Miss Universe contests as parades of vacuous beauties in bikinis gushing about world peace, Japan has an alternative.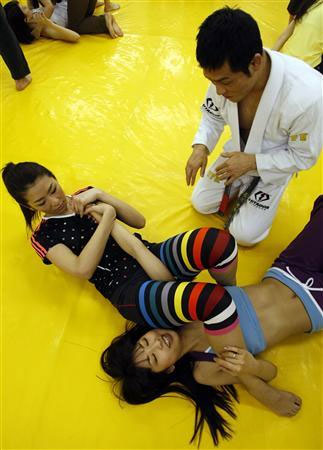 Miss Universe Japan 2009 finalists take part in a Brazilian martial arts Jiu-Jitsu class in Tokyo April 2, 2009 - Photo: REUTERS/Kim Kyung-Hoon
The Miss Universe Japan pageant, which selects who will represent the country on the global stage, is creating a new daredevil beauty queen through a punishing boot camp that would make many men cry.
The ideal contestant is modeled on the exotic, rough-and-tumble vixens of the James Bond 007 movies: seductive but also packing a decent right hook.
"Traditional beauty contests are tacky. They don't belong to this millennium. They are from my grandmother's time," Miss Universe Japan's creator Ines Ligron told Reuters.
"It's degrading to women to be judged on having perfect boobs and legs. I'm trying to prove you can win with your personality and intelligence.
"I want to create 'Bond' girls. A Bond girl is sexy, strong. She is sensual, intrepid. She can do anything. And of course she has to have a killer body!" added the Frenchwoman, who launched her answer to the more traditional beauty competition in 1998.
Ligron said she has been inspired in recent years by Halle Berry's bikini scene in the 007 movie "Die Another Day" and
Angelina Jolie
's Lara Croft character in "Tomb Raider."
Her methods have culminated in Riyo Mori's crowning as Miss Universe in 2007, a year after Kurara Chibana finished runner-up.
Mori and Chibana both got lucrative modeling contracts.
"The Miss Universe directors always ask me 'Where did you find these girls? They're fierce! That's always the word -- 'fierce'," Ligron said.
"I want to change the perception of beauty."
'WORLD' IS NOT ENOUGH
Emily Miyasaka will look to continue Japan's success at this year's Miss Universe in the Bahamas in August after winning the Japanese qualifier earlier this week.
The 24-year-old looked exhausted backstage after Monday's competition, as Ligron's training is often harsh.
At this year's boot camp, finalists went rock-climbing, tried base jumping and bashed each other around in jujitsu classes.
"We've also had the girls jump out of trees," said Ligron. "Swimming with crocodiles was another idea. We also ran up and down 50 floors at Tokyo Midtown (building). They were destroyed."
A samurai sword-wielding Chibana was a big crowd favorite in Los Angeles three years before losing out to Puerto Rico's Zuleyka Rivera.
A major celebrity in Japan, Chibana has also made TV documentaries as a reporter in Uganda, Vietnam and Cambodia.
"I think being a beauty queen just for the sake of it is a waste of time," said the 27-year-old. "Miss Universe should be a stepping stone. I want to go into politics in the future."
The Okinawa-born Chibana wants to become Japan's first female prime minister.
"It could happen," she said. "But I want to do it through my own efforts and not just because I was second in Miss Universe."
As for her election manifesto?
"World peace is definitely up there!" Chibana said with a laugh.
(Editing by Miral Fahmy)
© Thomson Reuters 2023 All rights reserved.