INTERVIEW-Hublot 2008 sales remain strong - CEO
ZURICH (Reuters) - Swiss watchmaker Hublot, part of luxury group LMVH LMVH.PA, is bracing itself for a tougher 2009 even though sales have continued to improve this year, it said.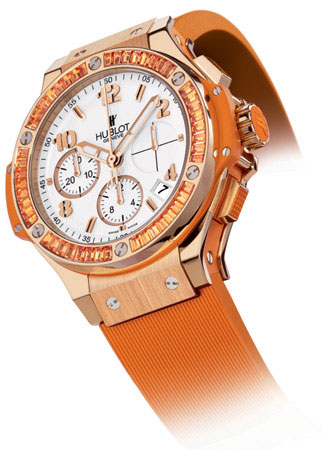 Big Bang Orange 2008
Hublot Chief Executive
Jean-Claude Biver
said the company, which sits alongside Tag Heuer and
Zenith
watch brands at the French group, had seen nearly all of its markets hold up so far.
"2008 has been better than the same period in the previous year," Biver told Reuters in an interview. "The psychology of people can be very surprising and we could be surprised by a good Christmas."
When LVMH bought Hublot in April, it said it expected a "very significant increase in revenue" in 2008.
Yet, as the downturn became more severe, analysts predicted this autumn that 2008 would be the year Swiss watchmakers would suffer their first significant slowdown in half a decade and 2009 would be even worse.
Biver said retailers were now more wary of building up inventories and Hublot was cautious about costs and was buying watchparts now four months in advance rather than one year ahead.
"In the past, we always had a balance and not every market was hit by a recession or a slowdown at the same time," Biver said.
"This time, every country has been hit by the financial crisis, the same disease, the same problem. It might be for once that the slowdown is worldwide and not just limited to one or two regions."
Around two thirds of the group's sales come from Asia and Europe, with the remaining third coming from North America, Canada, South America and the Caribbean.
Biver said he was not too worried about the recent rise in the Swiss franc, which hit an all-time high versus the euro last week.
"Whatever we lose on the euro, we can compensate it with the dollar and the yen. All in all, I don't think there are too many losses in terms of the exchange rate," he said.
The company posted a 60 percent jump in revenues last year to 157 million Swiss francs ($134.1 million).
Richemont , the world's second-largest luxury goods group and seller of Cartier watches, said in September that trading had worsened in the United States between April and August and warned of uncertain times ahead.
Rival Swatch Group , however, said it expected sales to grow between 6 percent and 9 percent this year, helped by demand in countries such as China.
Hublot was set up in 1980 in Geneva by Carlo Crocco who created a watch in gold, fitted with a natural rubber strap -- which he said was a first in the history of watchmaking.
The watchmaker this year sponsored the Euro soccer tournament and recently agreed to sponsor English football club Manchester United, which means it will make 500 limited edition watches costing 15,900 Swiss francs each.
(Editing by Astrid Wendlandt and Simon Jessop)
© Thomson Reuters 2023 All rights reserved.