China: European investors worried by increases in salaries
Wage growth is accelerating in China, raising concern among local professionals and foreign investors. Some 22% of European companies locally say they would consider investing elsewhere.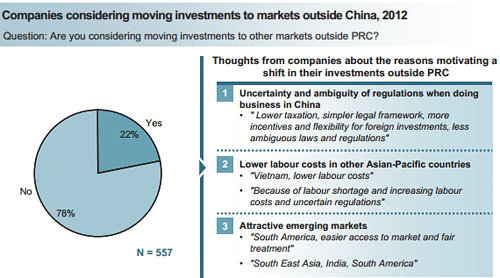 Extract from the Business Confidence Survey conducted by
the European Chamber of Commerce in China
In 2011, wages grew by 14.3% in large companies, reaching 42,452 Yuan per year, or about 446 euros per month. The rate was higher among small private companies, with 18.3% growth to 24,556 Yuan a year, approaching 260 euros per month. And the latest figures released by the Office for National Statistics also highlight a new trend: unskilled labor, too, saw its wages increase steadily, sometimes even exceeding the national average.
Last April, the
Hong Kong Trade Development Council
highlighted the
growing concern among its own members
. Not less than 87% of local exporters consider themselves less competitive due to wage increases. And this while 83% fear increased competition from neighboring countries.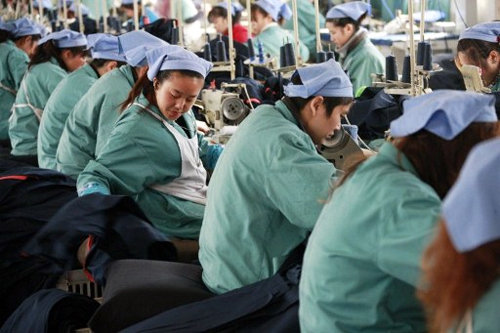 Photo: AFP
That fear is well founded, according to the
survey recently published by the European Chamber of Commerce in China
. It reveals that 22% of European companies in China are considering investing in other emerging countries. Among the respondents, 63% are concerned about wage increases, and 90% see it as an obstacle. Only 36% expect a positive development in their business in China. Even if 78% describe themselves as optimistic.
The study also reveals that the alternative to China will consist mainly of countries in the Asia-Pacific region, starting with Vietnam, where costs remain lower. As for opportunities, ease of access and the attractiveness of South America seems to be appealing, as well as some countries in Southeast Asia and India.
Copyright © 2023 FashionNetwork.com All rights reserved.