Brazil's Natura shareholders mull stock offering
SAO PAULO, May 29 (Reuters) - Controlling shareholders of Natura (NATU3.SA) are considering selling stock in an offering in the local bourse, the Brazilian cosmetics maker said in a regulatory filing on Friday 29 May.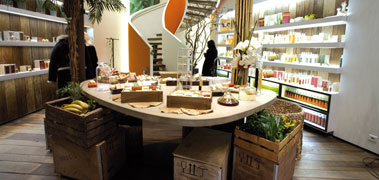 Natura
"Financial advisers have been hired by controlling shareholders to study a possible secondary share sale," the company said in a filing in response to a story published in local newspaper Valor Economico.
Natura gave no other details of the proposed offering.
According to Valor, Antonio Seabra, Guilherme Leal and Pedro Passos, Natura's controlling shareholders, plan to sell up to 1.8 billion reais ($895 million) of stock. The daily didn't disclose any source for the information.
Natura would be the third company in Brazil with plans to sell stock as risk aversion eases around the globe. Credit card operator VisaNet and Brasil Foods, the company formed by the takeover of Sadia (SDIA4.SA) by Perdigao (PRGA3.SA), have announced similar plans.
News of the possible offering comes after the Bovespa rallied 41 percent since its low for the year on March 3. Natura shares had lagged the index with a gain of 31 percent over the same period.
Seabra, Leal and Passos, who currently hold 73.4 percent of the Sao Paulo-based company, would relinquish a combined 13 percent stake, Valor said.
Natura shares fell 5.3 percent on Friday 29 May to 25.75 reais. (Reporting by Guillermo Parra-Bernal; Editing by Lisa Von Ahn)
© Thomson Reuters 2023 All rights reserved.