It's been the best of times and the worst of times for two shopping malls on opposite sides of London.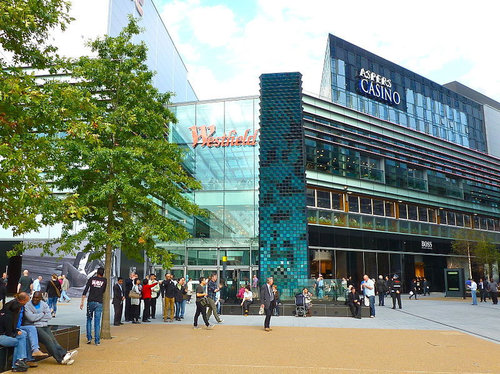 Westfield Stratford / Photo: Westfield
At the new
Westfield
Stratford City bordering the Olympic Park in east London, business has boomed during the 2012 Games, so much so it had to limit access at the weekend.
But across town at Westfield in west London, poor sales and a lack of shoppers reflect many areas of the capital not connected to the Olympics where there are worries they will not benefit from the July 27-Aug. 12 Games and may even be hurt by them.
Economist Nouriel Roubini, dubbed "Dr Doom" for anticipating the 2008 financial crisis, made his prediction early.
"The Olympics are an economic failure," he wrote on Twitter. "London is totally empty, a zombie city."
Not at Stratford City. The new mall of Australia's Westfield Group closed to non-Olympic ticket holders on Friday and Saturday when organisers said 450,000 people flocked to the Games, most of them moving through the mall to the main entrance of the park, buying food, sportswear and merchandise as they went.
Some of the shopping centre's shops have seen more than 50 percent more customers since the Olympics began, a spokeswoman for consumer behaviour analyst Experian said.
"In our wildest dreams we had no idea it was going to be this busy," said Ruth Sharvona, general manager at the Stratford City branch of
John Lewis
department store. A company spokesman estimated around 10,000 customers were visiting per day.
"The first day of the Games there was suddenly a massive, double, triple-fold level of footfall and sales. What we took in a week last year we now take in half an hour," she added.
"We're selling about 500 burgers a day. Normal would be about 100," said Vikram Marla, general manager at Exceptional Sausages in the mall's food hall.
The picture couldn't have been more different 12 miles west on the other side of town. At Britain's number one shopping centre Westfield London, some shop floors were almost deserted.
"It's dead, it's completely dead," said a sales assistant at one high-end retail outlet stocking glamorous designer clothing. "From 2,000 people a day we're now getting about 600 or 700."
"The whole place seems quieter," said Kevin Speck, 30, who works at a hairdressing salon on an outside walkway that normally teems with bag-laden shoppers.
A Westfield Group spokeswoman predicted visitor numbers for the whole of 2012 for the two centres, which house around 600 shops and 130 food outlets, at between 50 and 60 million, with estimated sales around 2 billion pounds ($3.1 billion).
That compares with total British retail sales in 2011 of 303 billion pounds, British Retail Consortium figures showed.
Both malls had extended their opening hours by up to 30 percent in anticipation of a large influx of Games visitors, but only at the 1.45 billion-pound Stratford City, Europe's largest urban shopping centre, has that paid off.
"When the Olympics began, we were expecting our sales to go up or even double, but we didn't even meet our target sales," said a sales assistant at a store at Westfield London selling skin and hair products.
Westfield refused to estimate just how big a windfall it had received at Stratford City, or to say whether the increase was enough to offset any losses at its other mall. It also declined to give any estimates of total receipts or visitors.
A statement issued by the company on Tuesday said that numbers were up at both malls from the previous week, however.
WESTFIELD LONDON NOT ALONE
Retailers across the city had been fearful that the Games would deliver nothing but transport chaos and massive crowds yet were hopeful they might also bring an Olympic bounce needed in the middle of a recession.
The government had promised the Games would bring 13 billion pounds of economic benefits, hoping to assuage critics who saw the 9.3 billion pound ($14.55 billion) cost as too expensive given Britain's strained finances.
Last week, Experian figures showed footfall in the capital's usually thronging West End, full of shops, restaurants, bars and theatres, was down 4.5 percent from the same time last year.
Fearing that London's already creaking system of buses, and underground and overground trains would buckle under the strain of record passenger numbers, transport bosses had originally asked Londoners to stay away from the city centre.
When it became clear that the system was coping after the first business day of the Games, Prime Minister
David Cameron
encouraged Londoners back.
"London's working well, it's open for business, come back into the capital, come and shop, come and eat in London's restaurants and let's make sure that all of London's economy benefits from this," Cameron told Sky television last Thursday.
But many Londoners had already booked holidays or made plans to work from home - or stay at home to watch the Games.
The latest Experian data suggests customers may be slowly returning to central districts, however, thanks both to the success of the Games and that of the British team, which on Tuesday increased its total medal haul to 48, including 22 golds, its best performance since 1908.
"Clear messages that the city is dealing effectively with the Olympic crowds and relaxed Sunday trading laws (longer hours) have together made an impact and certain retailers and particular sites witnessed a significant increase in shopper numbers," Experian said on Tuesday.
Chief executive of the London Chamber of Commerce, Colin Stanbridge, was hopeful the upturn would continue.
"If this Olympics follows the pattern of others, then we will start to see more and more people in the centre of the city and its shops in the second week," he told Reuters.
"The real benefit will come in the months and years after the Games when we see increased visitors coming to London to visit and to shop."
© Thomson Reuters 2023 All rights reserved.